If there is one thing that I cannot stand, it's the ripping of good high-quality dating sites. I recently came across a website that had me furious as can be. Given that I'm the online dating authority, I figured it would be completely wrong of me to not share my thoughts on the Snapsex website. Here on datingcop.com, it's my duty to point out all the horrible dating websites that I come across.
While I do praise those worth praising, I bury those that simply are not worthy.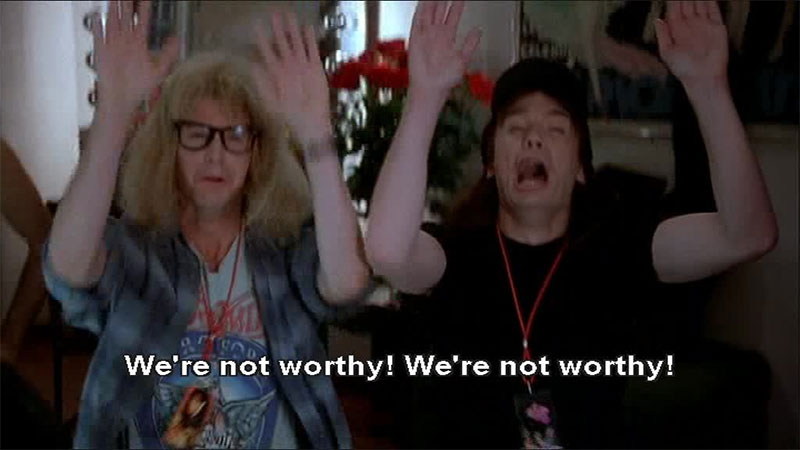 I can tell you right now that Snapsex is definitely NOT worth your time, effort, money or anything at all.
Rather than simply call this site out, I'm going to break things down and tell you why the site is fake and a fraud (far as I'm concerned).
But first:
I need you to understand that Snapsex.co is not affiliated with Snapsext.com. These are two totally different sites and are owned by different companies entirely.
Now that I've got that out of the way, here's what you need to know about the Snapsex website and the tricks that they're trying to pull here on you and every other consumer that comes across this website.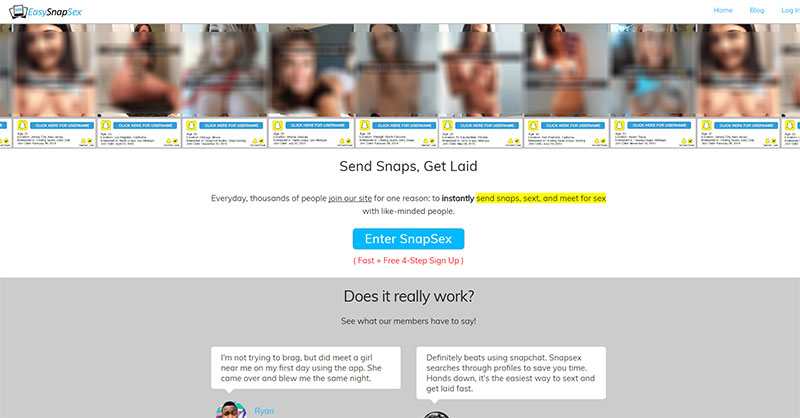 My Review of Snapsex and Why It's Awful
I'll break things down for you right here and showcase why I hate this site. It pains me to the core to see this type of thing take place and I'm going to tell you why. Basically, it's the practices in place that I simply do not agree with here. I'll list them for you one by one and briefly cover each without boring you to death.
Fake Snaps
I will kick things off with the fake snaps. Okay, so when you land on the official Snapsex site, you'll quickly notice that a stream of photos parade themselves across the header of the website. These pics look like snapchats but I'm telling you right now they most definitely are not.

They've used the Snapchat logo and applied it to photos. The website has done this to make you think that they are related to some sort of snap but they aren't. How do I know this is true? SIMPLE. Snapchat doesn't allow any nudity and if they thought this site was using their logo, they would be sued in a second. Long story short, the snaps are fake as can be.
Bogus Tagline
The Snapsex site has some silly tagline that states, "Send Snaps, Get Laid" and that couldn't be further from the truth. They want you to think that they have created a sex network which allows you to connect with real Snaphat users looking for sex but that's totally false.
Fake Reviews
If you take a look at the bottom of the homepage, you'll notice that two individuals have left reviews or comments on the dating service. First off, no real guys are going to leave these comments with their personal photos to boot. You would have to be an idiot to think that they would do that. I would be my last dollar that these are fabricated comments by people that do not even use the site.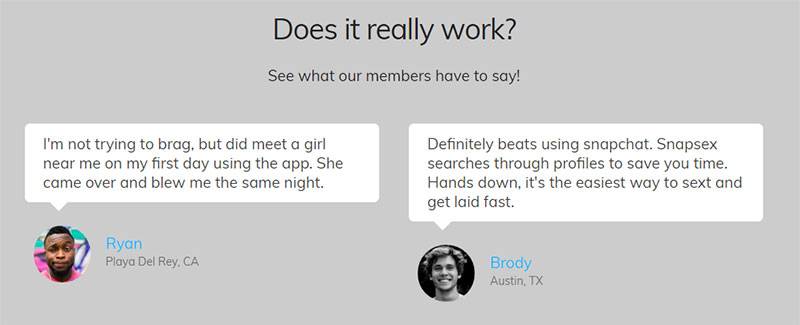 Fake Questions
Let's assume that you take the bait and decide to hit the "Enter Snapsex" button. That's going to lead you to a page which starts the annoying process of answering questions. These questions are not real. Whatever answers you choose to provide mean nothing here. This is nothing but a marketing tactic that many websites today use to get users to take action. It's as simple as that really.
It's Not Free
I'd also like to add that signing up for this website isn't free as they claim. Instead, it's free to register but once you've done that, you simply cannot do anything else on the site without shelling out some cash to do so. If I had to guess, I'd have to say that this membership will run you at least $100 a month unless you opt out of the shady cross sales and adult video site subscriptions. Yes, it's all part of the shady charm that Snap Sex has to offer. (Seriously though, not funny at all.)
Entirely Different Site
Did I mention that you're joining an entirely different website when you join Snapsex? It's the truth, the snapsex.co site is nothing but a cover for Easysnapsex.com. They want you to think you're joining another site but instead, you end up becoming a member of the EasySnapSex network by accident.
At this point, you're screwed and you've drunk the Kool-aid.
Conclusion: SnapSex Does Not Work!
If you're looking to use a website that works, then you want to avoid the Snapsex site at all costs. I mean, I guess if you do stubbornly decide to bite the bullet and join, you won't have to worry about any ghosting here because no one really exists, LOL. My suggestion would be to join the site mentioned above which is far better! I did not meet any girls on snapsex.co and you won't either. That much I can promise you!
If you're looking for a list of other sites that I recommend, then I suggest reading this here. You'll find plenty right there that are worth joining.