I'm all about using apps to get lucky. In fact, it wouldn't be far-fetched for me to say that I've had sex with people using casual apps more than traditional desktop dating sites. That said, not all of them are 100% legit. I've harped on this in the past but someone recently brought this SnpCupid app to my attention and I couldn't help but review it.
There's no sense in me, The Dating Cop beating around the bush about this one. It's a bad app. When I say bad I mean really awful and ineffective. Here's what you need to know about the Google Play app and why I highly recommend avoiding it at all costs.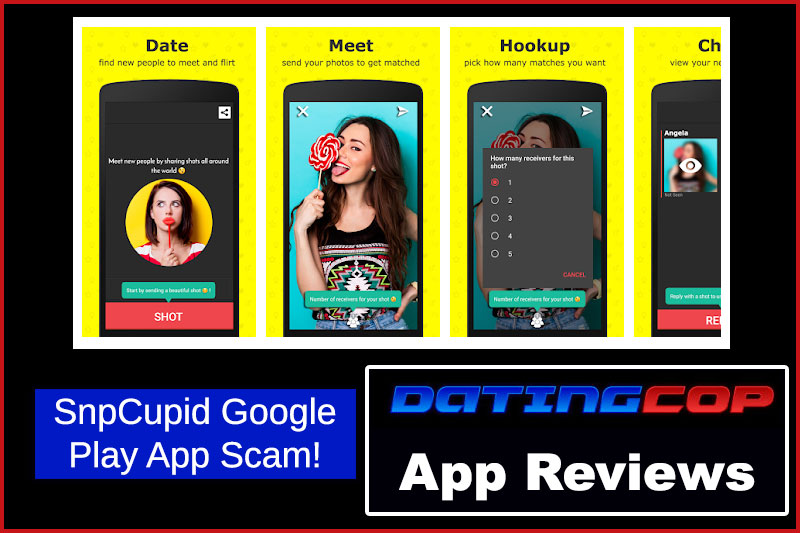 SnpCupid Google Play App Review – Do Not Use!
I'm not beating around the bush today. I've got a raging headache and unfortunately, my review is going to reflect that. Sorry, not sorry…that's how the cookie crumbles my friend. Here's what you need to know…Oh, but before I dive in, I want to say that the Snapsex app is just as bad as this one. Okay, now time to get on this mess…
SnpCupid is a totally fake app that somehow managed to bypass the safety protocols of the Google Play store. It's pretty miraculous that they've gotten as far as they have. But with a little bit of help, this massive scam could be wiped from the servers. Hopefully, in due time, it will be and it will never be used to trick people into spending their money again.
Portal Potty
It only takes a few seconds to figure out that nothing about this thing is legitimate. In fact, the app itself doesn't even do anything. It's nothing but a portal to a completely different site that's been scamming people for years.
The Discovery Process
Once you download the app, there's only going to be one button to tap. It will look like you're about to go and set up your profile, but you're not. You're not even going to be on the same app anymore.
As soon as you tap it, you're going to be redirected to a site called Free Local Dates. This is a very well known scam site that people have been trying to get rid of for a long time. They're so well known that they've had to resort to creating these fake apps to lure people in. They haven't done a thing in the way of offering a real product.
What Happens From Here…
It's on this site that you're going to be spending the rest of your time. You're going to start filling out your profile until you get to a page that needs your credit card information to continue. They claim that it's only for age verification, but that's a total lie. If you give the requested information, you're going to be signing up for paid memberships to several porn sites and they're not cheap. In fact, they're going to run you over a hundred dollars each and every month until you catch on and close out your accounts.
Based on my knowledge, the use of a credit card does not verify who you are today. You can use any credit card, all they care about is that they have a card on file at Snpcupid to charge you.
Fake Profiles
This is only one part of their scam, though. The next part comes from the fake profiles that will constantly harass you on the site. While you're a paying member of the porn sites, you're still a free member on the dating site. They don't like that. All their fake profiles are going to start sending you messages every single day.
You won't be able to respond to them unless you upgrade yourself and start paying. The trick here is that they go out of their way to make it seem like you're getting real messages from real users. You're not. It's all fake and created by the site.
Conclusion: Avoid This Snpcupid App Or Lose Your Money
There's no reason for anyone to ever use this app. It has nothing to offer and can run you thousands of dollars if you're not paying attention. The associated sites will bang your cards for as long as they can and they make it difficult to stop the charges too.
The very best thing that you can do is report the app to Google. If you don't have the time to do that, simply ignore it and find a better Google Play app to spend your time using. There are plenty of real dating apps out there that actually want to help you meet someone and ultimately help you bang. This one, unfortunately, is not one of them.
If not this then what?
If you want to get laid, then the answer is simple, start by joining one of the networks below. #BOOM!