Did you know that taking selfies is so popular today that they've literally created a national selfies day? Yes! It's true, they really did. Given that it's so incredibly popular, companies are taking full advantage of this trend creating tons of websites based on selfies. Can you really hook up with the people on these sites? That's the real question that needs to be answered. One of the sites that I'm reviewing today is called WildSelfie.
Before you jump in head first and start using Wild Selfie, I want to explain why you shouldn't. I've done extensive research and I'm here to share why you should avoid this site completely. Just keep reading to get the full scoop on this site.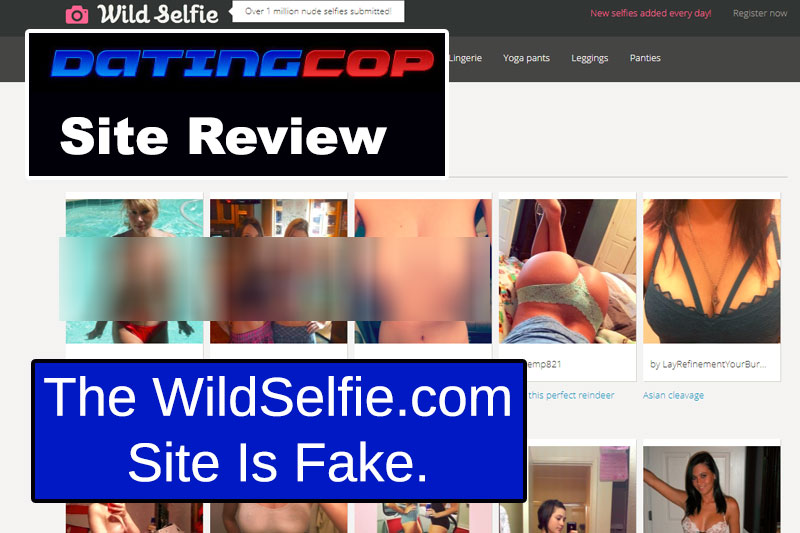 WildSelfie Is Not What You Think!
I'm not wasting any time here at all with this review, just getting straight down to business. I started where you'd expect, with the homepage.
Fake Submissions
If you take a look at the text at the top of the site, you'll notice that the website claims to have more than a million selfie submissions. I'm here to tell you that this is without a doubt a fake number. In fact, I don't think any of these photos are true submissions.
I take that back because I know for a fact that none of these photos are real submitted selfies! How do I know that? Well, there's no way to actually submit to the Wild Selfie site other than sending them an email. You're going to site here and tell me that a million people emailed this site? That's complete crap and a total lie.
Also, the site shows a Submitted Date and all it is really is just today's date. They want you to think they are freshly submitted immages.
Stolen Images
Speaking of submissions, I'd like to state that in my personal yet humble opinion, I believe that all these photos have been stolen or ripped from other websites. I dug deep and learned that a lot of the photos on Wild Selfie were firsts posted on TheChive.com. See the screenshot below and you'll know that I'm talking about.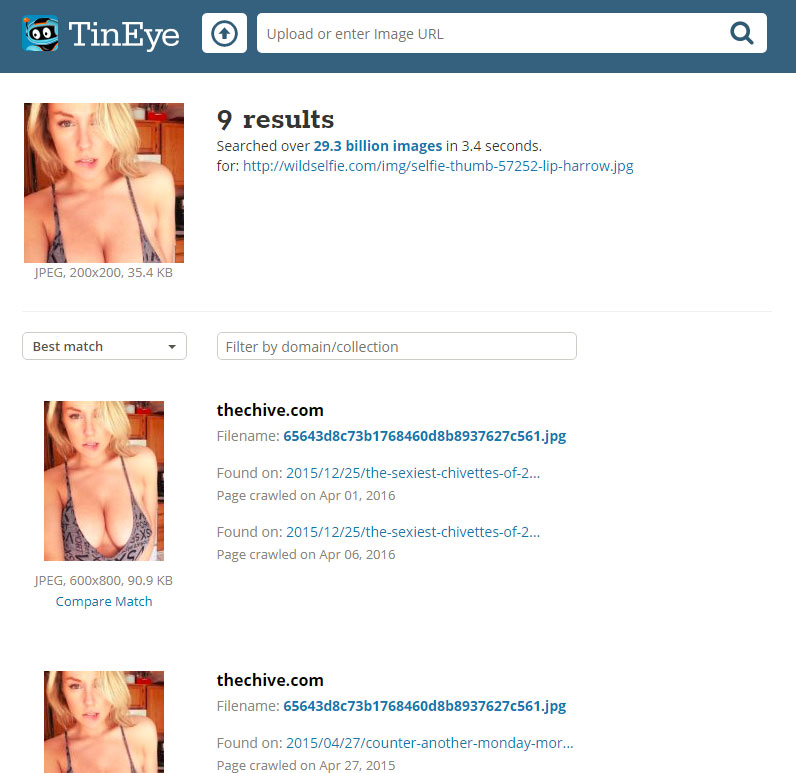 Another thing I'd like to mention is that these photos are not Snapchat nudes or anything like that. They are nothing more than nude selfies that have been uploaded to the site by the owner.
The Redirects
Now, they've built this site with Register Now buttons "View all selfies" links but I need you to know that those are 100% not associated with the photos on WildSelfie.com. The company makes it seem like these photos were submitted and they most definitely were not.
So, all those links actually redirect to another dating site that's not even associated with WildSelfie.com. It's, unfortunately, one of the biggest scams on the Internet. The problem is that some sites redirect to great dating sites and others redirect to complete scams. Based on my research, this site is actually redirecting to a site that I like and approve of using. It's called Snapsext.com and I actually use the site. Not to be confused with the snap dating sites like Snapfuck.com, Snapsex.co, and Snapslut.com.
Why Worry About Nude Selfies?
There are lots of reasons why you should worry about using a nude selfie website like this. The girls in the photos may not approve of the photos being used. They may not be of legal age, and it may get you in trouble for using the site. The good news is that legit hookup sites cover this verification process so you have nothing to worry about. But on this site, they do not!
Conclusion: Stay Away From WildSelfie.com
I want to make sure where on the same page here. The Wild Selfie website is a waste of time. The photos are stolen and perhaps not of people that are verified as being of age to be posing in explicit photos. As for Snapsext, that sites the real deal and it will get you laid if you try it. In fact, I strongly recommend giving it a shot or look to see what I'm talking about.