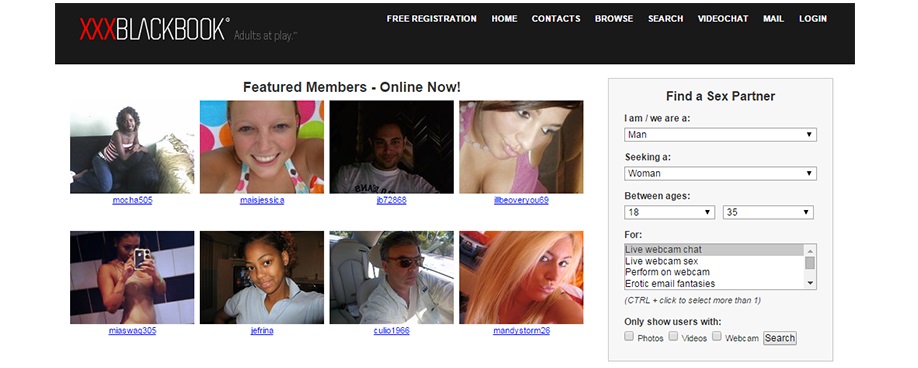 Have you been sent to XxxBlackBook.com through another dating service or received emails in your spam from this website? If you are thinking of joining it and creating a user profile, there are some things about XxxBlackBook.com you should know before you move forward. In this review we will present the finding of our investigation, so you can see whether this site is genuine or a rip off. So, continue reading.
Ask yourself before you sign up:
Does XxxBlackBook.com contain fantasy profiles?
Are they sending me automated messages?
Why should I give the site my money?
Will I meet someone real and in person from XxxBlackBook.com?
Scams XxxBlackBook.com pulls on you
Many of the scamming techniques used on XxxBlackBook.com to get to your money, we have seen before on many other dating sites. An inexperienced person may overlook the obvious conning tricks they pull, but to us they were very obvious. Moreover, we found solid evidence on the XxxBlackBook.com terms of service page that only confirmed our doubts.
1) XxxBlackBook.com Uses The "Sweethaarts" Service
One of the first things that came into our mind was the fact that there were so many attractive and beautiful women on the site, who were ready for online dating and fun, and posting the most explicit photographs of themselves. This would not be a problem on any legitimate site, but it is too good to be true. We suspected that these profiles seen on XxxBlackBook.com are fictitious.
EVIDENCE OF SCAM: "This site uses fantasy profiles called 'Sweethaarts' which do not correspond to actual members. You understand, acknowledge, and agree that some of the profiles used on this site may be fictitious and operated by site administrators and or its contractors. Nothing contained in a Sweethaart Profile is intended to describe or resemble any real person, and is included on the Website for your personal enjoyment or entertainment."
2) Reuse And Distribution Of Your Profile Info
Some "Sweethaarts" profiles are not completely made-up, and they contain the personal information and photographs posted by other site members. Moreover, the site states in the terms of use, that your info will also be used by the site and distributed to other online dating networks. Basically, as XxxBlackBook.com uses other people's profile information to fabricate the dating profiles of "Sweethaarts", they can take and distribute your information without notifying you.
EVIDENCE OF SCAM: "Subject to our Privacy Policy, you are granting a license to XXXBlackBook.com for any Content you provide by any means through or to the Website and the Service. XXXBlackBook.com may modify, display, transmit and create new material using your Content to support the operation of our systems, including but not limited to, providing introductions to other Users, assisting us in the formulation and transmission of communications to you, adding watermarks to profile images, or to support your inclusion in the new or featured members sections of the Website. By submitting Content to the Website, you automatically agree that XXXBlackBook.com and anyone permitted by XXXBlackBook.com may reproduce, display, distribute and create new works of authorship based on and including the Content."
So why does the "Sweethaarts" service exist?
to fill up the site with as many profiles as possible
compel you to start a conversation
send you computer-automated messages
encourage you to pay for using the service and features
3) "Sweethaarts" Communicate With You
When we created our basic, free profile on XxxBlackBook.com, we started getting all kinds of communications from women on the site. But, we found some things strange and they raised two important questions:
–Why is it that we are automatically asked to pay when we try to read or send a message?
–Are there really that many gorgeous women in my area wanting to talk to us?
We believe that we can answer the first question quickly and firmly, mostly because we found the proof to back up our suspicions in the XxxBlackBook.com Terms of Use document. Communications with Sweethaarts are intended to deceive you into upgrading from basic to a paid membership.
EVIDENCE OF SCAM: "You understand, acknowledge, and agree that no physical meeting will ever take place between you and any Sweethaart, and that the exchange of messages between you and a Sweethaart is for entertainment purposes. If you respond to, or initiate any communications or interactions with Sweethaarts it will not result in a physical meeting between the Sweethaart and You."
4) Charging You For Services You Don't Get
If the messages sent to you are computer-automated and used only to deceive you into paying for a membership upgrade, and there are false profiles created using other people's photos and personal information, then WHAT ARE YOU PAYING FOR? This is the part of the workings of XxxBlackBook.com become completely fraudulent. Here are the payment options you can choose from:
Gold Membership
$9.95 for 2 day trial membership
$34.95 for 1 month of membership
$69.95 for 3 months of membership
$119.95 for 12 months of membership
Silver Membership
$29.95 for 1 month of membership
$59.95 for 3 months of membership
*NOTE that once you provide your credit card information and select a payment period, it will be automatically charged every time the initial payment period is over. Of course, XxxBlackBook.com will NOT notify you about this and will keep taking money from your credit card until you realize what is going on and cancel your paid subscription.
The verdict on XxxBlackBook.com
After researching this website, we can conclude that it's not the most legitimate one of dating services. XxxBlackBook.com's scams and frauds are now exposed and we do not recommend this site to anyone who's looking for true online connection. You simply cannot get that on XxxBlackBook.com.
XxxBlackBook.com Scam Questions
We hope we presented all the information you wanted to know about XxxBlackBook.com and the way it operates. If you have anything else you'd like to ask, feel free to post your questions in the comments section below. We also welcome your feedback and any personal experiences with using XxxBlackBook.com that you'd like to share with others.
XxxBlackBook.com Contact Info
Address: Copyright Agent c/o XXXBlackBook.com , 2nd Floor, 13 Upper Baggot Street, Dublin 4, Ireland
Email: Contact Page
Report and File a Complaint
You can contact the Better Business Bureau to file a complaint and report the site if you feel you have been deceived, conned and/or overcharged.