So, I spend a lot of time reviewing many dating sites out there on the Internet. In doing so, I frequently come across a number of websites that have millions of users (on a daily basis actually). When I do, I'm not just necessarily inspecting the site for all its flaws but I'm also taking notes on every other aspect of the site that I see. I've got to admit, I've come across some really awful usernames during my investigating and reporting. That's why I've decided to share some username ideas with you to help improve the chances of you hooking up.
The first thing you need to understand is that choosing a username is a big deal. It's not some mundane task that you do once without a care in the world. In fact, taking the wrong approach can destroy your chances entirely, trust me I know. First impressions mean everything and a username leaves one that's oftentimes unforgettable when done correctly. Keep reading as I break things down for you and share all my best tips and tricks for anyone looking to up their hookup chances in the adult dating world of today.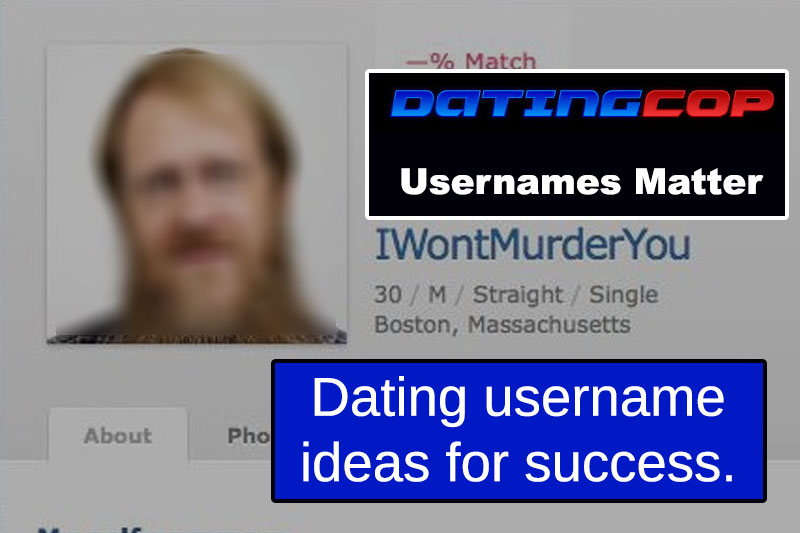 My 9 Best Tips For Online Dating Username Success
So, here's what I've decided to do, I broke things down so that you can understand everything you need to know. The best approach for me to take was to segment things here be sex type. Reason being, men don't want to read the women's profile section and vice versa. Here's what you need to know…
Username Profile Tips For Women
Ladies first right? Here's the ultimate list of tips for dating username decisions. But first, here's a fun fact…
The typical guy looks at your profile bio photo first, then proceeds to examine the rest of your profile if they have any interest. The second thing that they typically look at is the username. If you're looking to capture someones attention, then you'll want to take my advice below.
Taking The Sex First Approach.
Incorporate your sexual appetite into your profile name. Trust me, guys will flock to your profile like flies on dog crap. Showcasing your specific wants and needs from a sexual demanding point of view can prove to be impactful. If you're into BDSM or swinger sex, then mention that in your profile name. For example, a swinger may use the user handle "WkndSwinger" assuming you like to swing with horny couples during the weekend.
Feel free to incorporate anything into your username related to sex, just make sure it doesn't violate any of the terms of use of the website.
Act Upon Your Activities.
If you like to be extremely physically active and an outdoors woman or adventurer, then be sure to mention that in your username handle. For example, if you're an avid runner, fitness freak, yoga, spinning addict or whatever, be sure to mention all that in your username. Well, don't mention all of it, but what you think is most attractive about you. Assuming you're into yoga, you could always use yogi4flings or something like that.
Fashion Creates Fans.
Assuming you've got a special love for fashion or a type of brand, then you might want to incorporate that into your username. It shows that you have great taste and guys love a girl that's not afraid to dress sexy. My advice would be to use something upscale like "RedbottomsGirl" which indicates that you like a particular type of red bottom shoes called Christian Louboutin.
Pets For Success.
Showcasing your love for pets in your profile username can go one way or the other. Sometimes it can bite you in the ass. For example, if you show that you have a strong affection for cats, you may get labeled the crazy cat lady. No one wants to bang the crazy cat lady. Simple as that, but you'll want to put forth the effort to work in your love for a specific breed if possible. Stick to dogs as they are more well-liked.
Online Dating Username Advice For Guys
Okay, this section is dedicated to the guys that are out there just trying to score with some women. Guys, it's SUPER important that you approach this the right way. Doing so incorrectly is most likely going to blow your chances of getting laid, period. Based on my personal experiences, here's some of the best advice that I can give you on this subject.
Again Sex First.
If you're simply looking for just a fling, then state that by using your profile name. Some people dating online are looking for a more serious and intimate adventure with someone that's long-term. If you're not looking for that then you don't want to use a handle like, "Search4Soulmate" or anything that scream life partner. Instead, let them know that you're a "bang and bye" type guy.
In fact, using the username "OneNightGuy" might give the girls a clear indication that you're only after one date and that's it. Assuming you're looking for a milf, you might want to put that into your username. So, let's say you've got a profile set up on Milfaholic.com or some milf site, you might want to use the handle "stud4milf" or something like that so they know you're specifically looking for that type of person.
Use Your Location.
If you're living in a city or attending a college, then use that in your username. For example, assuming you went to Harvard you might use "HarvardHookup" or something that indicates your school and the actions you're looking to take. If you're a Miami Heat basketball fan you might use "Heat305Lover" or something along those lines.
Show Off Your Physical Attributes.
If you've got something going for you that gives you an edge, then showcase that in your portfolio. What I mean by that is you're best to tell people what you're packing if you're hung like Dirk Diggler from Boogie Nights. For example, if you're packing, then the appropriate username might be "6InchesAround" and trust me, girls will either love it or run for the hills.
Show Off Wealth.
Without looking like too much of a douchebag, you want to let these girls know that you're not a broke loser living in your mom's basement. In the event that you are, then I suggest you do not state that or you'll never get laid online. Say you own a boat or a bunch of Rolex watches. If so, you might call yourself the "RolexKing" or "YachtLifer," you get the idea. This will give off a vibe that you've got some money and can afford to treat girls well.
Sports And Fitness.
If you're a sport and fitness fanatic, then you'll want to use that in your username. Lots of girls get super turned on by a guy that has a die-hard love for their sports teams. So much that this commonality causes relationships to blossom.
If you need help joining any of the many adult dating sites that exist today, don't hesitate to either contact me or check out this list of the best.