I've been known to try a number of dating sites in my day and I still spend time doing so. That's how I came across WantUBad. Believe it or not, the wantubad.com dating site caught my eye enough for me to want to try it out. As you know, I don't ever pass up the opportunity to try a casual dating site ever. I'll share some of the details with you below, but please keep in mind that this is simply my personal opinion of things and you may have different results. It's purely based on my research alone. You can form your own opinion of the site should you choose to do so.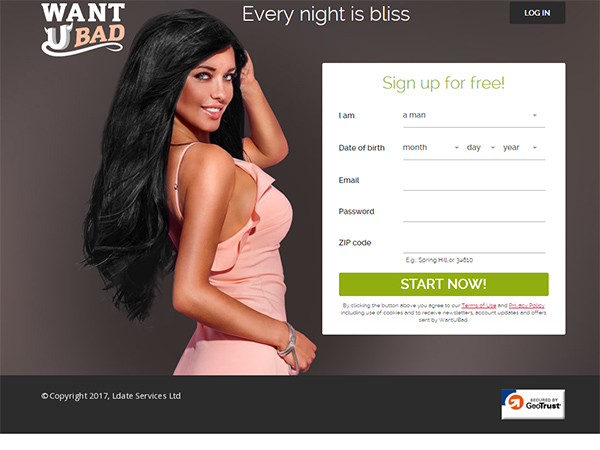 My WantUBad.com Review (Everything I Liked and Disliked)
I'm planning on revealing everything there is to know about this site, but before I do I just want you to know everything that I plan on covering here! Some factors will seem shocking while others won't even make you bat an eyelash. Let me give you a quick rundown of things I'll be covering…
Basic Landing Page
Lots of Messages Received
Auto Bots
Shady Winks
Pics Of Celebs
Terms Of Service I Can't Agree With
Basic Landing Page
I'll start from the very beginning before joining. The WantUBad site has a girl that is simply smiling on the front page of the site and literally nothing more. There's a basic registration form which requires users to provide gender, D.O.B., Email address, password, zip code and that's about it. While some may see simplicity as a plus, I see it as a huge problem. The fact that they have no contact info, no links, and nothing other than a company name and terms and conditions scares me to death. It's a very typical practice of a site that might not have your best interests in mind.
Lots Of Messages
After joining the site, which was relatively simple, I began to receive a ton of unwanted messages. Don't get me wrong. I like to receive messages from people looking to hook up but I don't typically like getting messages when I haven't even completed my dating profile page. Lots of companies look at this as a sheer volume game and they typically try to connect you with people before you even get your profile up and running. In other words, these messages are completely useless to receive. The girls have no idea what you look like and they won't even know if they have a true interest in you.
Auto Bots All Over The Place
I noticed that auto messages were being sent to me. I cannot stand receiving these kinds of messages ever. The bots here typically have a way of sending you a message or two that basically a computer is sending and nothing more. They have algorithms in place which allow you to easily communicate with fake users simply by sending and receiving messages. Sure, these types of messages won't' lead to getting laid but they do keep you entertained. I personally can't stand them at all!
Shady Winks Are The Worst
When you think someone likes you and they smile or wink at you, it gets your hopes up. Well, this site does just that and nothing more. They specifically state within their terms and conditions that they have bots send winks to users. So fake profiles are winking at you on WantUBad, apparently to make it seem like they really want you bad. The kicker is that nobody wants you. It's nothing more than a computer running in the background. I pity the fool that buys in on this crap.
Celeb Pics In The Members Area
While I can't 100% verify this myself, I can say that many of the other third-party review sites out there have mentioned that the site uses celebs pics in their member's area section. I cannot say that I saw this, but the fact that someone else mentioned it makes me very skeptical about the services in general. If you think celebs are on this site, then you must be absolutely crazy!
I Hate The Terms
I literally hate a ton of stuff that I read in the WantUBad terms and conditions. There are so many things that I didn't like that it's too much for me to list here. I suggest taking a look at the terms before you do anything at all.
Cost
The cost is anywhere between $2.97 for a 3-day trial to $65.00 for a 6-month premium membership. It all depends on the membership that you choose. It's one thing to pay for a dating membership, it's another to pay for one that simply doesn't work (to the best of my knowledge).
Contact Information
Assuming that you want to get your money back like most people that probably join this site, here's the information you need to successfully do so.
Addresses: P.O. Box 146 Trident Chambers, Road Town, Tortola, British Virgin Islands
Phone: 800-867-3170
Email: support@wantubad.com
Final Judgement
I wouldn't waste a single second using this site. It's nothing more than auto messaging, bots, possibly fake celeb profiles and much more. I suggest you try another dating site instead.
In the event that you want to give a proven dating site a try, you can try using one of the sites below and see what happens. I'm willing to bet money that one of them will help you have sex with a horny local. Whatever you do, stay away from WantUBad for sure!