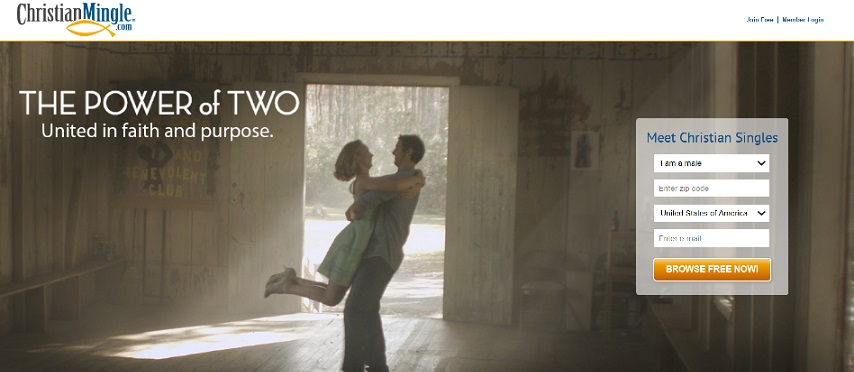 ChristianMingle.com promotes online dating for Christian singles that are looking for friends, romance and/or marriage. They promise to help bring Christian singles together, by introducing people with the same values and love for Christ. But is this true and will ChristianMingle.com truly help or deceive you?
We investigated this website for a period of time and found things that do not seem genuine and right. In the following text we will present to you our findings and evidence that back up our suspicions. So, continue reading to learn the truth.
Sinful and scamming actions on ChristianMingle.com
If you came to this site looking for true connection and a chance in love, let us share this with you: ChristianMingle.com is owned and run by a company called Spark Networks® LLC, which also owns and runs BlackSingles.com, Spark.com, JDate.com and there may be other dating sites that we are not aware of. In the site's terms and conditions of use we found the needed evidence to prove ChristianMingle.com's fraudulent actions.
1) ChristianMingle.com Reuses Your Profile Info
By singing in and creating a profile on ChristianMingle.com, you automatically agree to the Terms of Use. But, did you read this document to get informed about your rights and duties? One of the first scams we encountered was the fact that the site explains how by merely posting a photographs or writing something about you – they gain exclusive right to take, reuse, modify and distribute these information across all their websites. They can also make an agreement and share your personal info on other networks they have a contract with. Basically, the minute you post anything on ChristianMingle.com it is no longer yours.
FROM THE TERMS AND CONDITIONS OF USE: "By posting information, photographs or content on any Service, You automatically grant, and You represent and warrant that You have the right to grant, to Us and other members, free of charge, an irrevocable, perpetual, non-exclusive, royalty-free, fully-paid, worldwide license to use, copy, perform, display, promote, publish and distribute such information, content and photographs and to prepare derivative works of, or incorporate into other works, such information and content, and to grant and authorize sub-licenses of the foregoing."
2) You Are Paying To Use The Service
We believe that the biggest scam of all is when this site tries to charge you for using the features. ChristianMingle.com wouldn't have to go through so much trouble to create, replicate and distribute profiles, and then generate fake, automated communications if there was no gain on their end. But, whenever you try to interact in any way with other site members – you are asked to upgrade your account to a paid membership. ChristianMingle.com services are not free and you will be charged big time to be able to use the site. Here are the offered payment options:
$29.99 to buy 1 month of membership
+$3.99 for first-time subscribers membership fee
$56.97 to buy 3 months of membership
$83.94 to buy 6 months of membership
3) You Get A Ton Of Messages
ChristianMingle.com uses computer-automated messages, sent to you by computer software. This means that no one is actually sending you emails and no one is interacting with you, but these messages are only a marketing tool used by the site to get you engaged in their services. The computer-automated messages will be sent to you at different periods of the day, and they will be coming from fabricated profiles (not real site members).
FROM THE TERMS AND CONDITIONS OF USE: "By becoming a Member, You agree to accept and consent to receiving email communications initiated from Us or through Us including, without limitation: message notification emails, "Your Match" emails, emails informing you about events and parties We organize, emails informing You of changes to the Service and emails informing You of promotions that either We provide or that are being provided by third parties."
4) How Come They Fabricate Member's Profiles?
The profiles ChristianMingle.com uses to send you communications through are fabricated and created by the owner company. Such profiles are illegally created using profile information from other users who once got deceived and posted on the site – just like you post yours when creating your account. These profiles contain images, data, names, etc. that originally belong to other people and are taken from other dating sites and networks.
When ChristianMingle.com takes your information they have the exclusive right to do whatever they want with them and the same happens to other people's personal info. This only explains why ChristianMingle.com has a need to collect your profile data and points out that they will distribute them on other affiliated sites or share with contractors. Just think about it: Who is behind the dating profiles posted on other networks if it's not you?
The verdict on ChristianMingle.com
ChristianMingle.com is hiding under the mask of a Christian and honest online dating site, when it is actually associated with other scamming dating sites run by the same company, who use the same scamming techniques to double-cross and rip off naive people. We advise you to always pay close attention and never give your credit card information to a dating site without reading the terms and conditions of use first. In the end, this is what we can conclude about ChristianMingle.com:
ChristianMingle.com will take your info and use it on other dating sites without explicitly asking your permission.
Your personal information and interests will be distributed throughout the internet and you will no longer belong to you.
Email and chat messages you receive are completely computer-automated sent through fabricated profiles
The site is full of members' dating profiles that have also been illegitimately taken from them
ChristianMingle.com is NOT a free dating service and you will be ripped off
You can never know whether you are communicating with a real good Christian or if the site is scamming you
ChristianMingle.com Scam Questions
Got anything to ask or add? Feel free to use the comments section below to post your questions about any uncertainties or to share your personal experiences with ChristianMingle.com.
ChristianMingle.com Contact Info
Address: 11150 Santa Monica Blvd., Suite 600, Los Angeles, California 90025
Email Contact: Contact Page
Phone Number: 1-866-660-7924
Report and File a Complaint
Contact the Better Business Bureau to file a complaint and report the site if you feel you have been deceived, ripped off and conned.