I'll tell you right now, sometimes I come across sites that make me so angry I want to scream. Guess what, Craigshookup is one of those sites. No matter which way you want to dice it up, this wannabe Craigslist dating site is nothing but a marketing front. The good news for you is that you've come across this review just in time before joining the site or doing anything to interact or take action on this website.
Avoid Craigshookup Or Get Scammed, The Choice Is Yours
Now, what you want to do is keep this in mind while reading this article:
The Dating Cop knows what works and what doesn't. Plain and simple.
That being said, I'll be the first to tell you that craigshookup.com and craigshookup.net are both sites that do not work. In fact, there's nothing that is going to happen in terms of hooking up with someone on any Craighookup website.
How Craigs Hookup Scams Surfers
Here's exactly what the craigshookup.com website does to try and scam you. If you do a search on the Internet for this site, you'll eventually end up on a page that looks exactly like the screenshot below.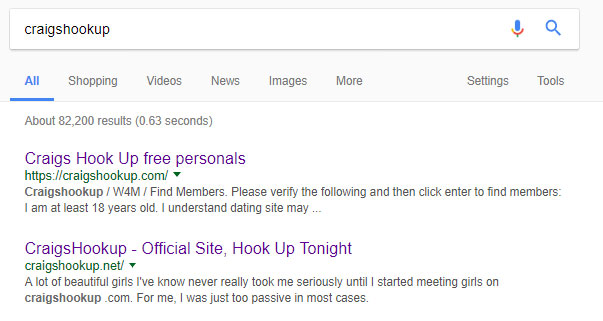 You'll then come across a really basic page show below. It's a simple page built to look almost identical to the original Craigslist casual encounters section. They do this on purpose to make you think you've landed on a dedicated site which connects you with Craigslist users. What I need you to understand is that this is completely fake.
As so as you click on the site title or the "Enter to free member section" you are immediately redirected to another page. The thing that really pissed me off is this the redirect doesn't stop. They end up redirecting you to multiple hookup sites that do not work.
You must not try and join any of these sites that you get redirected to. All of them are completely fake and a huge waste of time. For example, you're bound to get redirected to Cheatingcougars.com, milfshookup.com, fantasycheaters.com and many other illegitimate websites.
Now for the Craigshookup.net Scam
If you visit the Craigshookup.net website, you'll notice that the site leads you to a page with a smoking hot blonde that has her boobs exposed. The one thing that you likely missed here was the fact that the domain name changed completely. It went from craigshookup.net to fuck-buddies.org.
This is a huge red flag, there is no other way around it! What they're trying to do is lure you into joining another shady dating scam that will likely cost you hundreds of dollars and not get you laid, ever.
The landing page will try and get you to work through a number of questions which mean nothing at all the second that you click the "Continue" button. Eventually you will be prompted to join some exclusive dating site with an offer that's just for you. I hate to say it but it's all a huge scam.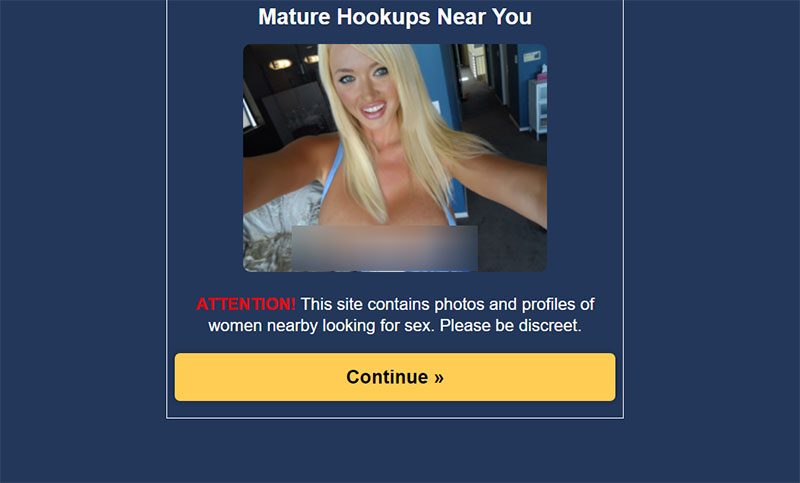 I'm sure you've seen something like this before at one point or another. It's pretty common for websites dedicated to scamming innocent single consumers off to implement this type of thing. It's one of the many scams that I try and tell people to avoid.
Why Avoid These Copycat Craigslist Scams?
The main reason to avoid these scams is that they don't work. I've never personally had any level of success whatsoever when using anything that is remotely related to this or any free classified site. That's just how it works really. There are too many untrustworthy people out there that are doing unethical things to get your credit card information. Luckily, I've been able to find a few good sites that actually help you get lucky. There's no bull or gimmick with them either. Just strictly members looking to bang other members.
Conclusion: Craigshookup Will Not Help You Hook Up With Anyone!
The bottom line is right there and clear as can be. This website is one of the biggest wastes of time that any single online dating consumer will eventually realize. Once you get sucked into this type of marketing funnel, well, it's hard to get out. The good news is that there are other things that you can do, like avoid it and save your money. An even better idea would be to join another site that actually works. I've got plenty of them posted the main page of my site. Just have a look and you'll know exactly what I'm referring to.