It sounds stressful I know, but I promise you that it's not nearly as bad as it sounds. In fact, it doesn't take much effort at all in my opinion. I'm here today to tell you exactly how to get a girl to have sex with you. I do it almost every single day and knowledge is power my friend, so pay close attention to everything that I'm about to share with you today.
These are things that just about anyone can do and they're not that difficult either. If you find yourself attracted to some hot girl, then all you need to know is how to approach things to get in her pants. That's where my expertise comes into play.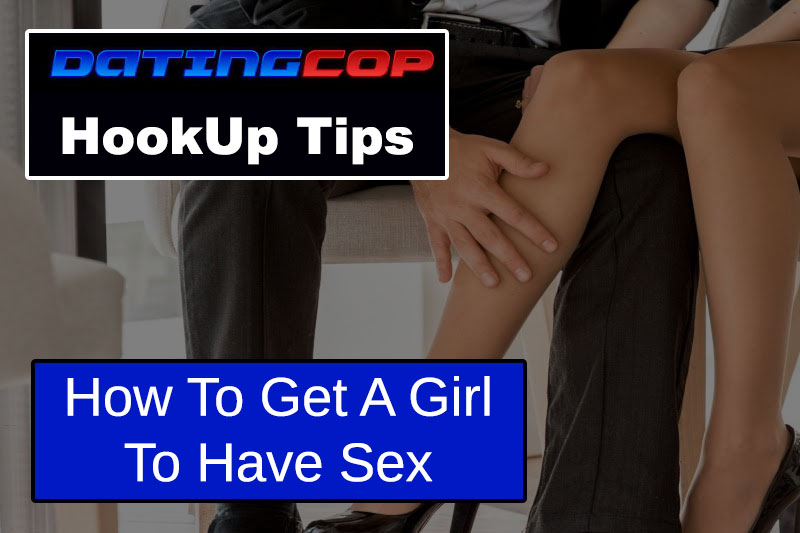 Tips On How To Get A Girl To Hook Up With You
Some people think that it's 100% necessary to wine and dine girls in order to get them to have sex with you. I call nonsense on that one. You don't need to break the bank or your back just to get her to bang. The people telling you that nonsense definitely DO NOT know what they're talking about. All you need to do is follow these simple tips that I've shared below and I can personally guarantee that doing so will up your chances of having sex with a girl you're pursuing.
1) Let Her Know You're Into Her
What's the best way to let a girl know that you're into her? Communication! If you are not taking the time to try and communicate with this girl that you want to bang, then chances are you'll never bang her. You've got to get things going and start talking to her or you will go nowhere fast.
2) Tell Her She Looks Good
Don't do this in a creepy way but be sincere and gentlemen about it. Some girls like it when guys gawk at them and others absolutely hate it. Play your cards right and stay on the right side of the playing field by keeping things polite. Use words like beautiful, incredible, ravishing, stunning and more. These will get her wet enough to want to bang you, I can almost guarantee that.
Now, if you're newly connecting with this girl and you don't know her at all, coming out like that is a bit strong. Just compliment her in a polite manner instead and stay away from the "sexy" or "hot" talk as that may make her feel uncomfortable. Remember, the objective is to get her to feel comfortable enough to want to get closer to you. Speaking of closer…
3) Try To Interact Physically
You will want to make some sort of physical connection with this girl for sure. Not doing so isn't going to help. You don't want to go in and grope her or anything like that but work on incorporating the need for touching like shaking hands, high fives, sitting leg to leg and more. Most importantly, you'll want to assess the situation and pull back if necessary.
If this is with a new girl you're just meeting, then you need to tread lightly. Anything too forceful will look aggressive and perhaps turn her off for good. Now, if the girls don't fight you on it and she seems to like the physical interaction, then you should slowly move in closer and get more physical for sure.
4) Flirty With Her
Girls love flirting with guys. In fact, if I had to take a wild guess I'd say that flirting is perhaps at the top of their list of things they love doing. You need to send girls flirty signs or signals that you like them.
The good news is that there are hundreds of ways to accomplish this task. You can do it by buying them something, surprising them, sending a sext text messages, or taking her out for a nice spur of the moment happy hour.
If you're with a new girl, you'll need to be extra careful not to rush things too much. Sure, flirt with them but don't come right out and start dirty sexting or saying you want to bang her hard AF, LOL. That's not going to get anybody laid!
If you do all those things and you treat the girl with respect yet you show her that you're seriously interested in her, then chances are you'll be rewarded for good behavior. Now, if you're using a dating site like Fling.com or Instabang.com, then you don't need to be so shy about wanting to have sex. However, you need to realize that these are women and girls, not pieces of meat. Treat them as if you truly think they're pretty and someone that you value versus just a hole and you'll get a lot further. Even if that is just a little white lie.
Which sites should you join to find these loose women? I thought you'd never ask! My advice would be to read this article where I name the best app for hooking up with locals. That's a great place to start, no doubt about it.