Lots of people tell me that Tinder sucks. I get a lot of questions too about it. Will the Tinder network help you hookup? That's the question that I'm asked almost every single day. Which is why I took another look at the app for all the readers of Datingcop.com. Now, there's always going to be more to cover as Tinder, Bumble, Hinge and all the other massive dating apps are constantly changing. However, this is what I can tell you about what I know today.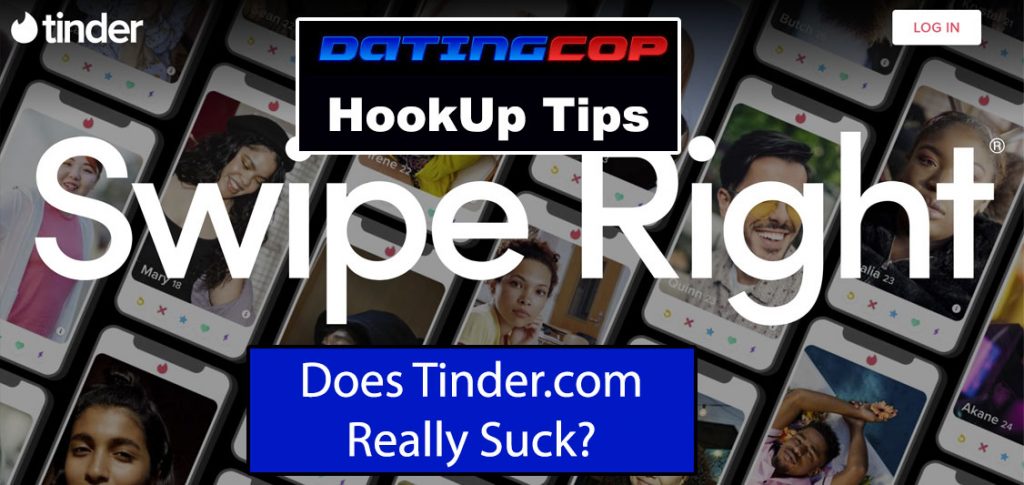 Tinder Sucks Or Is It Good? Here's The Truth…
Here is everything you need to know about Tinder.com in 2020 and possibly more. I'll kick things off by answering a few questions. Does tinder show if you read a message? Yes, they do. does tinder tell if you screenshot? Yes, they can. Here are some more questions.
Does Tinder Do What It Claims?
There are more and more dating apps on the internet every single day. There are always new companies that want to jump into the dating app world and there's plenty of space for them. Most of them will look to the older apps to see how it's supposed to be done. One of those older sites is Tinder.
It's what most new apps will look at when they want to make a program that really works and gives people all of the things that it claims to. The best thing about it is that it's totally legitimate.
There's no scam that this site is running. You can upload your photos and rate as many other people as you want. You're not going to be tricked into using the app at all. There are hundreds of thousands of users on it and they're not going to be going anywhere.
How It Works
The basis behind Tinder is extremely simple and that's why a lot of people really like it. All you have to do is swipe when you see a photo. You can go through as many profiles as you want and people are able to post any photos that they want.
They want to show their best face and get you to swipe right on them. That's going to mean that you like them, based on what you see. If these people see you and swipe in the same direction, you'll both get a notification that you like each other.
That's when you finally get the ability to send them a message and say hello. Since you both already know that you like each other, the chances are very high that you'll be able to have a conversation and see if you both want to get together for a meetup.
There Are No Scams Here
The best thing about the app is that there's no real way for anyone to scam you. All you're doing is rating each other's photos and that's it. You can talk if you both like each other, and that's as far as it goes.
There's really no chance of anything bad happening to you. You're not sharing your financial information and you can talk to other people without having to upgrade to a paid account. It's just simple and it stands out as one of the best dating apps that you can use.
Conclusion: Tinder Is Worth Your Time
If you want to use a dating app that actually gets you results, you want to use Tinder. It's been around for a long time and there's a very good reason for that. It works and it's not after anything that you don't want to give to it.
It's not going to work to trick you out of any of your money. You're not going to get any fake messages, either. You simply rate and get rated for the chance to talk to someone and see if you want to take things to the next level. Looking for the very best dating app to hookup, then you'll find it here.