I've covered so many types of sites over the years. One type that I've spent an exceptional amount of time studying is escort sites. There are some really shady tactics that take place on many of these types of sites. One site that I recently came across was Backpage.ly.
It is pretty obvious that this is one of those Backpage copycat sites that try to take advantage of consumers. Here are my thoughts on Backpage.ly and everything that I know about this site. It's a must-read if you're thinking of or have been using escort sites over the years.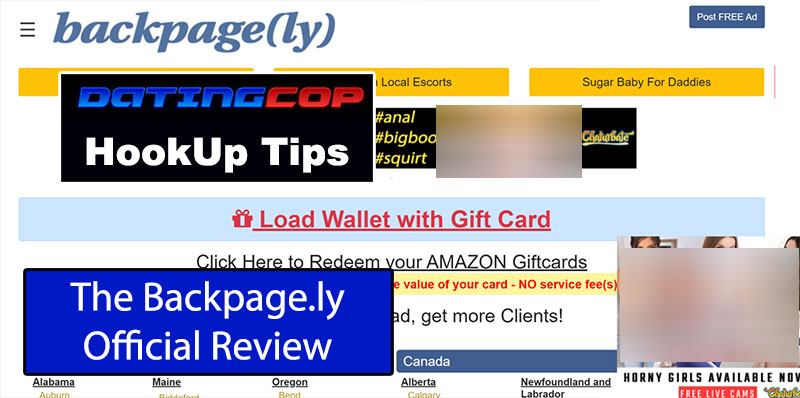 My Backpage.ly Escorting Review
I'll start with the basics…there are lots of sites on the internet that tell you they can hook you up with local women. A lot of these sites claim to do it for free. That's not for everyone, though. Not everyone can put in the massive amount of work that it takes to find a hookup.
That's why you come across sites like Backpage.ly. This site cuts through all of the promises and just tells you that you can use it to hire escorts. It seems like a great idea. You don't have to waste your time trying to seduce someone.
You simply see what they have to offer and how much it will cost. Then you can decide if it's worth it to you. You can browse through tons of ads and make sure that you schedule the girl who's right for you. The problem is that this site is nothing more than a scam.
The Ads Lead To Premium Sites
It doesn't matter how many ads you click through. It doesn't matter how many women you try to talk to. None of them are going to lead anywhere. The only things you'll be getting are links to paid porn and cam sites. That's really it.
You can choose any ad that you want and try it for yourself. The two main redirects will lead you to Adult Friend Finder and Chaturbate. Both of these sites are fine, but they also cost money. That's not how this site is supposed to work.
This site is supposed to simply give women a way to advertise their services and that's it. The second you find yourself being redirected to another site is the same second that you should back right away. It's a scam site if it doesn't give you what it promises.
The Same Ads Are Everywhere
If you want to see even more proof, just go ahead and look at the ads in one of the sections. Then check out one of the other sections. What you're going to see is the same ad posted over and over again. That makes it obvious that it's just a scam.
No matter where you are on the site, you'll find links to the same exact premium sites. That's because they just want you to visit them and that's it. There were never any real women posting ads here at all.
Conclusion: Backpage.Ly Is A Waste Of Time
No matter how you look at it, this site is just a massive waste of time. It's not worth the time it takes to click into the homepage. You're not going to be finding any real escorts here. They're simply not using it.
If you want to find a site with real escorts, there are plenty of them around. You just have to make sure that you're on the real ones and not the scam sites pretending to be real. This one should just be avoided in your search for sex.