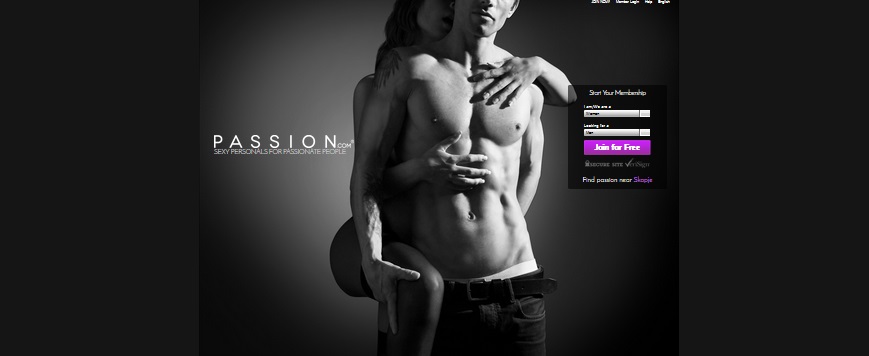 Passion.com is yet another dating site that uses scamming tools and tactics to get to peoples' money. They claim that the site is free, but be careful not to get ripped off. If you did your own research you'd have to be skilled to know where to look and find Passion.com's fraudulent workings. That's why, The Dating Cop Team did the hard work and will now present solid evidence that indicate Passion.com should not be trusted. In this review, we will explain the scamming mechanisms that Passion.com uses. So, continue reading to learn more and warn your friends.
Evidence of Passion.com scam and rip off
Other than creating a profile and using the service, we thought it would be a great idea to read the terms and condition of use, as well as the privacy policy of Passion.com. What inspired us to do this was the well-known fact that nobody ever reads these documents, which makes them a perfect place for scamming dating sites to hide evidence of their conning acts to provide them with legal protection. That was a good idea.
1st Sign of Scam: They have all legal rights over your posted content
We took notice on several conning workings of Passion.com when investigating it. But this one is by far the biggest and scariest one. You should be aware that Passion.com has the legal rights over all information from the moment they are uploaded on the site. Under information we mean all your profile data, including photographs and written text. Then, they have an exclusive right to do whatever they want with these information, distribute them to other dating services, modify them in any way, etc. All these actions require no need for you to be notified and once you discover what has happened the take-down procedure can be humiliating and difficult (plus there is no guarantee other sites will be willing to take the information down).
PROOF OF SCAM: "Once you post, send or otherwise make publicly available any Content through the Services ("Personal Content"), you expressly grant us, and hereby represent that you have the right to grant us, a perpetual, irrevocable, world-wide, assignable, sub-licensable, and transferable right and license to quote, re-post, use, copy, reproduce, modify, create derivative works of, incorporate into other works, distribute, transmit, broadcast, communicate, publicly display, publicly perform and otherwise exploit such Content in any form or media, anywhere, and without any notice or compensation to you of any kind."
2nd Sign of Scam: Member's profiles do not belong to real people
The people you see on the site and who are sending you messages are also NOT real. Actually, none of the information contained in these member's profiles are real including pictures, personal information, descriptions and interests are completely fictitious. They come from real people – like you, but they have been legally taken by Passion.com and other affiliated sites, modified, translated, combined and distributed all over the dating network as genuine. However, just like you'd have no control over your photographs when they appear on another site – neither do they.
PROOF OF SCAM: "Persons appearing in photographs may not be actual members. Other data for illustrative purposes only."
3rd Sign of Scam: Subscription fees are automatically charged
Passion.com will try to extort your credit card information from you basically by blocking you from freely using many of the site's services and features. More specifically – every time you get a message and try to reply – you are asked to pay. Every time you see someone and would like to start communication – you are taken to the payment page, where you can choose one of the following payment plans:
$29.95 for a monthly of subscription to the service
$59.80 for 3 months of subscription to the service
$179.10 for 12 months of subscription to the service
Another thing you should be aware of is the automatically recurring membership that you are not notified about by Passion.com. But, we found much about it in the terms of use. Basically, at the end of the initial subscription period that you chose, you will be charged once again and your membership will be prolonged. This will happen for as long as you do not notice the scam and cancel your paid membership.
PROOF OF SCAM: "In order to provide continuous service, we automatically renew all paid subscriptions for the Services two (2) days prior to the date such subscriptions expire. Such renewals shall be for a period equivalent to the period of your initial subscription to the Services or a shorter period of time if specified, and in our discretion, at the price of the same or comparable Services then in effect. By agreeing to these Terms, you acknowledge that your Account will be subject to the above-described automatic renewals."
4th Sigh of Scam: Communications are automated and software generated
If you were suspicious of the legitimacy of the email, chat and instant messages, notifications, and 'winks' you sure were onto something. All these communications are not real and DO NOT come from honest members of Passion.com who like you and would like to start a conversation. One of the most evident proofs of scam was the fact that we didn't upload any photos on our profile when investigating the site, and yet we got messages from women. Who would contact an empty profile? Plus, one of the messages said "You are cute. Let's hook up!" and a real person wouldn't have written that simply because we had no photographs where a conclusion that we are 'cute' can be drawn.
PROOF OF SCAM: "By using the Services, you consent to receiving electronic communications, e.g., email, from us or our subsidiaries and affiliated entities. These communications will include notices about your Account and information concerning or related to the Services. These communications are part of your relationship with us and you receive them as part of your membership."
The verdict on Passion.com
We most kindly recommend that you read the terms and condition of use document when signing up to an online dating service. If not then, you should at least pay close attention when giving them your credit card info. As you can see, much valuable information can be hiding in this document and may just save you from the scamming tactics of such sites.
Passion.com Scam Questions
For anything you might have to ask or add something, feel free to post in the comments section below. We'd love to read about your personal experiences on Passion.com or answer any additional inquiries you may have.
Passion.com Contact Info
Address: c/o Various, Inc. 910 E. Hamilton Ave., Sixth Floor, Campbell, CA 95008, USA
Email Contact: privacy@friendfindernetworks.com and Contact Page
Phone Numbers: 1-408-702-1033 or 888-575-8383
Report and File a Complaint
Contact the Better Business Bureau to file a complaint and report the site if you feel you have been conned and overcharged.
What Are The Best Dating Sites Online Today?
Curious to learn what the best adult dating sites are on the Internet today? I can tell you right now that Passion.com doesn't touch any of the sites that are even close to being ranked as a top 5 adult dating site. If you want to join a site that works, then I strongly suggest that you spend time using one of the sites I've ranked as being the best. There's a reason why it's ranked so high and on the list if it made the cut. I'll tell you right now that there are none that are better than those in my top rankings. Simple as that my friend!