Well, it's time once again for me to fly off the handle here (once again) and share my thoughts on a dating scam. The Datingcop.com has an obligation to do this and I refuse to stop until I uncover every dating scam on the Internet. If you're looking for a girl to fuck tonight, then you might think that FuckDate-Tonight.com sounds like a great site to try out. Well, I'll have you know that it most definitely is not great. Not at all and it's certainly not what you think it is…
The only way I was going to be able to sleep without sharing this information. While it's not as bad of a scam as others I've uncovered like the SnpCupid site scam and even the YesBackpage escort scams. Nevertheless, it's pretty awful. That said, here's what you need to know and why it sucks.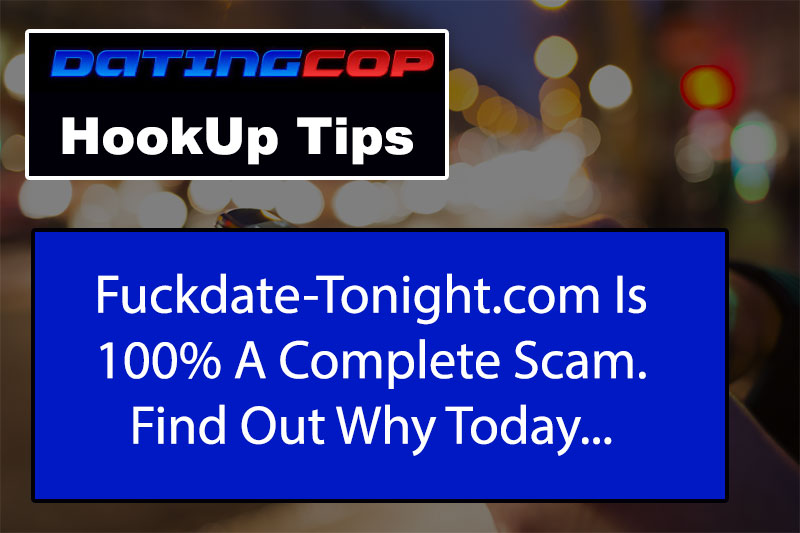 Fuck Date Tonight Review (It Never Existed)
As you go around the internet and visit your normal sites, you've probably come across ads from Fuck Date Tonight. They clearly claim that they can get you laid within a few hours of you signing up with them.
That's a pretty big claim for anyone to make. It's an even larger claim to make if you're not even a hookup site. In fact, this site isn't a site at all. It's simply a feeder site for Married Senior Dating. You know one of those senior hookups sites that suck, like SeniorFriendFinder.com. When you try to sign up with the first one, you immediately get redirected to the second one.
This is the one that you're actually joining. They never tell you that, either. They just move you over and hope that you never notice. That's because the second site is a well-known scam site that people are staying away from. They need to trick them back into using it so they can continue to make money.
The Scam Starts Right Away
This is a site that starts scamming you as soon as you sign up. They claim that you're going to be meeting people in your area who are looking for discreet encounters. None of that is true. You're never going to meet up with anyone on this site.
You'll just end up wasting all of your time. As soon as you join, you're going to start getting messages. It will seem like they were telling the truth. That's when you decide to respond to a few and see what happens. You find out pretty quickly that you can't actually respond to them.
You'll have to upgrade your account if you want to do that. Upgrading will cost you money. It's when you give in and pay them that you've been scammed by a scam site.
The Messages Were All Fake
None of the messages that you got were real. None of the profiles that sent them were real, either. It was all created by the site just to scam you. It's how these sites work.
They make it so you have to pay to send out messages. Then they send you messages from profiles they create to get you to respond.
You pay for your upgrade and that's it. They get their money and you get nothing at all. It's one of the most common scams on the internet and way too many people fall for it every single day.
Conclusion: Fuck Date Tonight Will Only Cost You Time & Money
There's no reason to spend any of your time or money on this site. It's just a scam and that's all that it will ever be. It was never intended to be a real dating site. Don't get tricked by the ads.
They don't lead where you think they do. Find a different hookup site somewhere else. It will be much better for you. They'll even have real women that you can talk to. I hate to see you get burned by a site like FuckDate-Tonight.com, so please avoid the foolishness and go with another option. Just make sure the site you land on is the site you wanted to join, not some absurd redirect or three.
Now, if you wanna get things in motion and take good action from the start, then I'm advising you to read the index page or the page where I've narrow things down to the most legit sites worth joining today.